App only
Groundbreaking features and innovations for you and your bike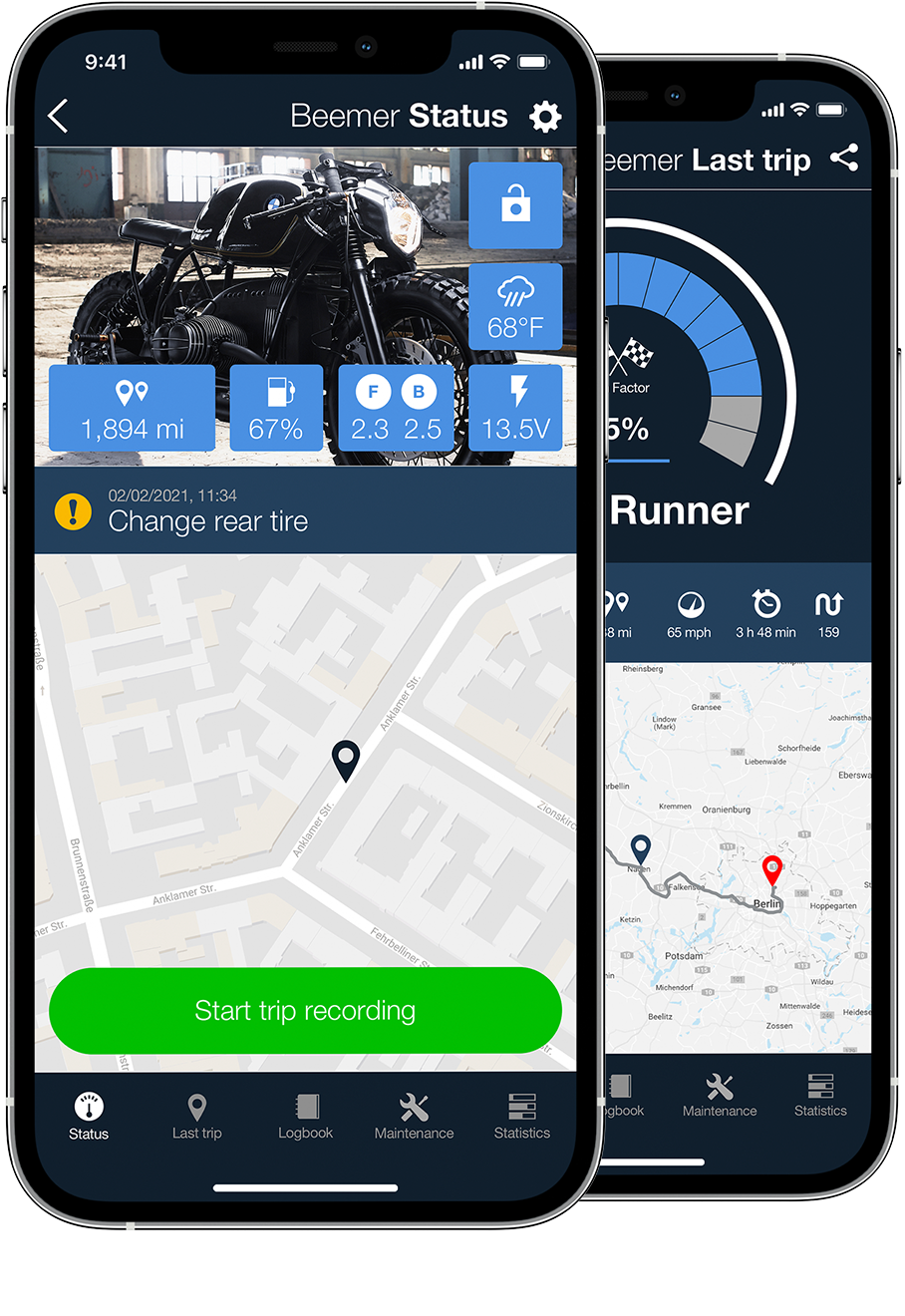 With the mo.ride app by motogadget you can easily record and file all your tours.
In doing so, the generated data offers essential information for your correct vehicle management – from analyzing your latest tours over maintenance to-do's up to virtual garage places.
Additionally you'll get access to over 7000 vehicle data records that carry all compatible wearing parts.
GPS Tourlog

Record your trips via a simple button press

Last Trip

All highlights at a glance: top speed, curve progression, fun factor and more

Dashboard

All essential information on display via your customized cockpit

Logbook

The vehicle history is securely saved in your logbook

Maintenance

Retain an overview of upcoming maintenance to-do's

Season Stats

Compare your current progress with the community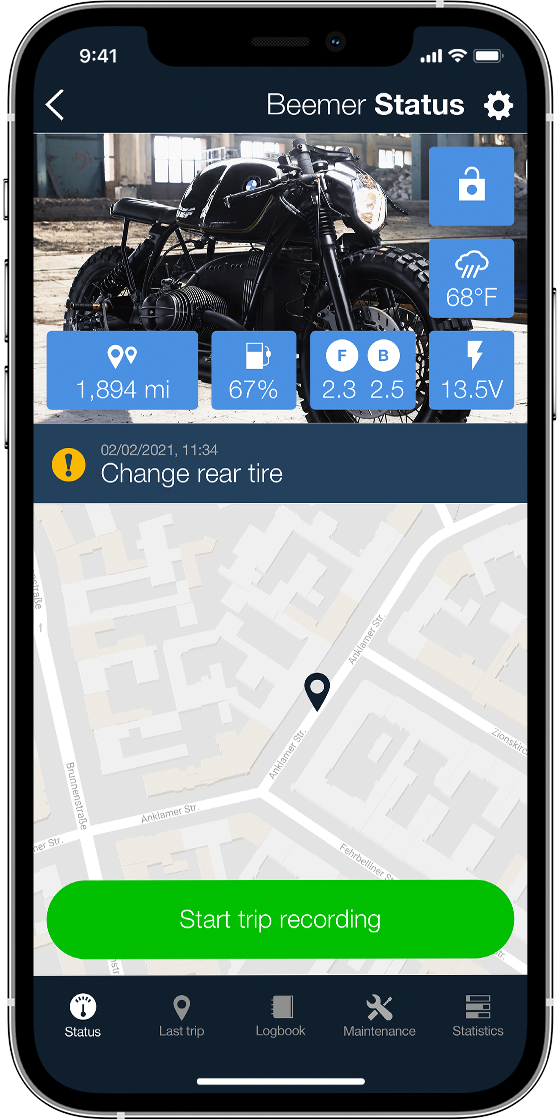 Want to get updates on vehicle location, current status reports or the weather? Never before has it been this easy to gather information on the actual Vehicle Status.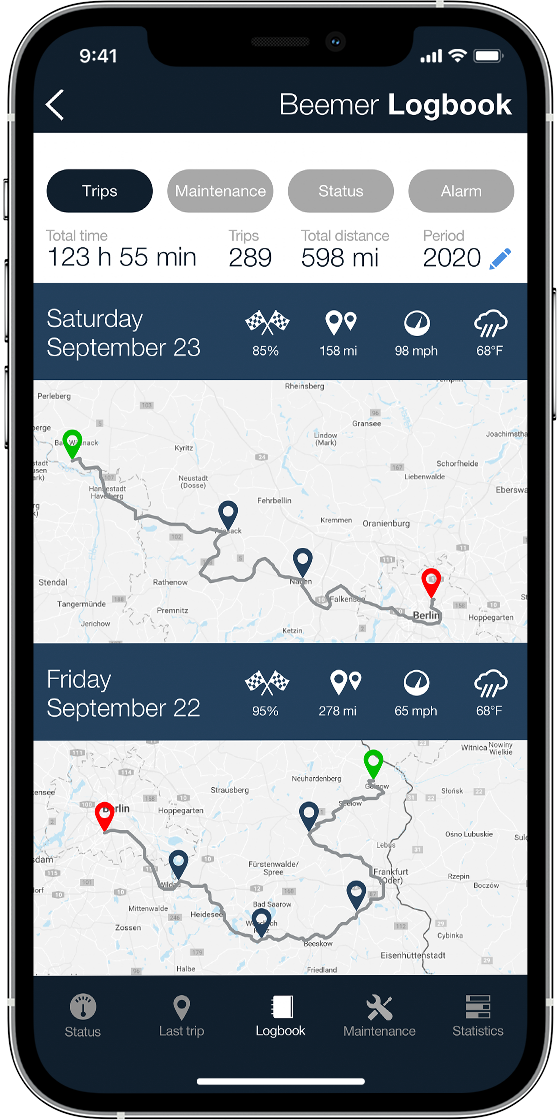 The Logbook offers a crucial guide for the correct vehicle management since it lists the history of your bike chronologically in calendar years, including your tours, the total distance travelled, maintenance activities and costs, alarms and notifications.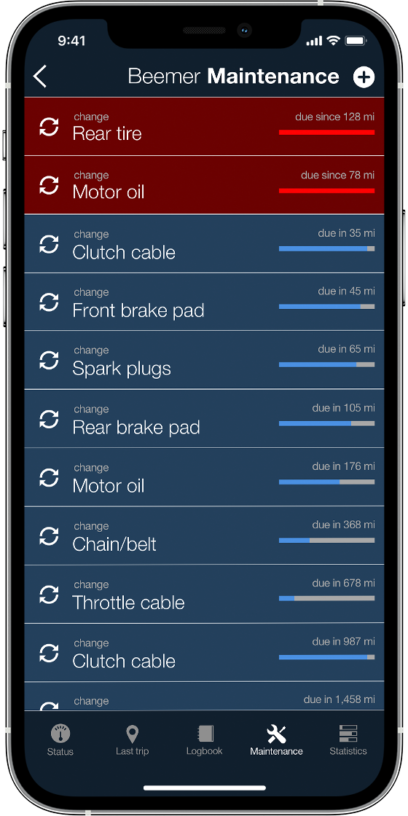 Maintenance basically eliminates any kind of major mishaps since service messages and free access to data records that carry all compatible wearing parts are with you at all time.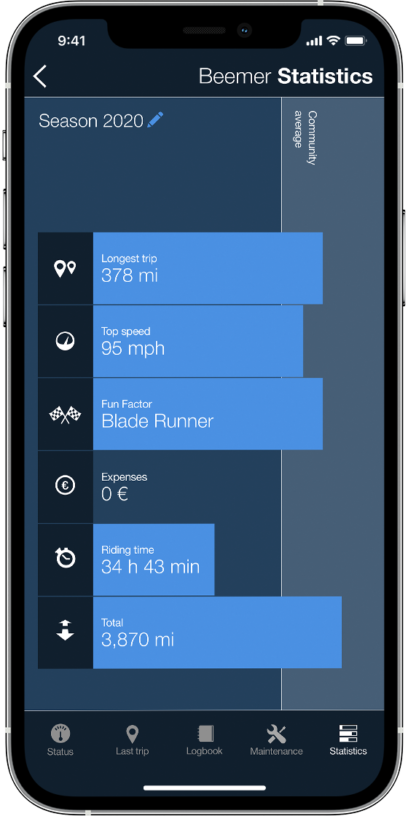 Your top speed, your archived tours, fun factor and so much more: enjoy your Season Stats the sophisticated way – and share it with the community.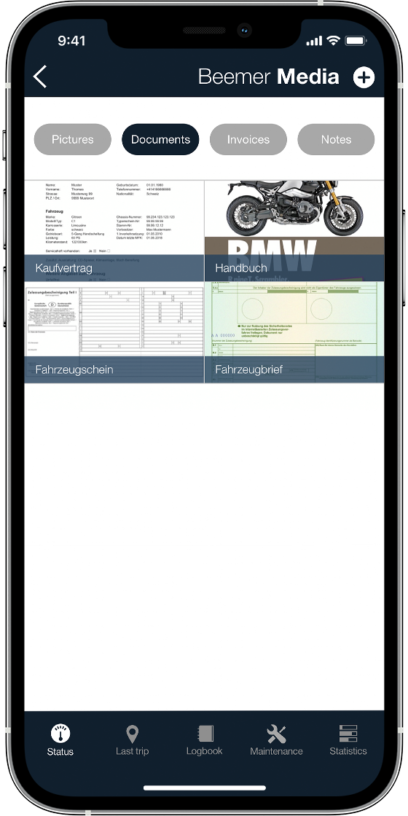 File all your necessary documents such as vehicle registration or your driver's license in the Documents section in order to have them available at all times.
Frequently Asked Questions
How does the automatic maintenance overview work?

The maintenance overview does only work accurately as long as you record each and every tour you drive. The covered distance will be automatically added – just like it would be with a mileage counter. As soon as you reach a preliminarily defined milage, you'll be informed about the maturity of upcoming maintenance.

Do I need additional motogadget hardware?

No. You can easily use mo.ride without any additional hardware.

Can I use all features of the app free of charge?

You could use one garage place free of charge. If you want to add another vehicle you need to buy extra space. Vehicles that already use motogadget hardware are allowed to use extra space for free.

Is my personal data safe?

All vehicle data, as well as your necessary documents, will be encoded and stored securely on our servers. You lost or changed your smartphone? Your digital garage can be easily rebuild! Your data will be saved on our servers in Germany via an encoded password – we're not authorized to view these documents, only you are allowed to uncover the recorded data with your password.

Can I pass on the vehicle data if I sell my bike?

Yes. You can easily transmit all data to a different mo.ride account without losing your garage place. The transmission will take approx. 10 minutes and is fee-based for the recipient (> alternative: for the new owner). For reasons of data protection we won't transmit your travel logs though.

Why isn't my vehicle listed in the database?

There are tens of thousands of vehicles around, and they differ by manufacturer, company, model and year of construction – it's simply impossible for us to record each and every vehicle. Our database consists of the top 100 of approved vehicles, offering more than 7600 vehicle specifications. If your ride isn't listed here, you can easily create and manually add your specific data set.

What wearing parts are listed in your database?

We provide essential wearing parts such as batteries, ignition plugs, tires, oils, etc specifically for your type of vehicle. This service is supposed to assist you in terms of selecting and purchasing these parts, but remain to be a nonbonding recommendation without any guarantee on the correctness of the data.

Why can't I use all functions the dashboard is offering?

You need motogadget hardware for using specific features such as battery voltage, rpm or tank capacity.

What's the difference between using the app exclusively or in combination with motogadget hardware?

The motogadget hardware is connected with mo.ride via Bluetooth, and therefore all tourlogs will be automatically generated – you don't have to use your smartphone. Furthermore a few vehicle-specific display functions on your dashboard as well as the acoustic assistance system "Ride-Assist" and "Keyless-Go" are only working with the usage of motogadget hardware.
Features Comparison Chart
App with mo.locator*

Automatic tourlogs

Maintenance

Keyless Go

Ride Assist

Power consumption

Current location

Alarm

Theft protection and tracking*

Emergency assistant*

Dashboard basic

Speed, compass, lean angle, acceleration, air temperature, time, date, altitude, location, turn counter, journey time, trip

Dashboard extended

rpm, fuel, tire pressure, tire temperature, oil temperature, water temperature, oil pressure, charging pressure, power consumption, timing
Other App- and Hardware Combinations